Do you want your child glued to their phone?
We are tired of seeing children on their phones or computers. We believe the only way to do this it to offer a more attractive alternative. Which is why we developed the explorer club set with this in mind
Learn more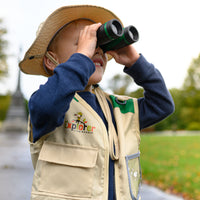 Looking for the perfect gift?
The explorer kit contains everything to keep boys and girls entertained for hours! We carefully crafted the packaging design to create a perfect gift for daughters, sons, granddaughters, grandsons, nieces and nephews.
Learn more
Testimonials
I bought this for my 3 year old goddaughters birthday ready for the summer and she absolutely loves it already! She's been wearing the hat and jacket pretending she's going hunting for crocodiles and the whistle is her favourite! She's in love with this and it's something that I've been getting videos of her using for the past few days! 10/10 for everything.

Amazon customer
Excellent product. Good quality materials used. My son has had lots of fun playing with this set and I know there's more to come!

Amazon customer
What an absolutely fab kit for any child who wants to be an explorer or adventurer. Highlight of my son's Christmas presents!

Amazon customer